Alaska Duck Hunting
Sea Duck Hunting on Kodiak Island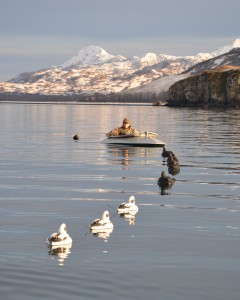 Kodiak Island, Alaska is truly a sportsmans paradise. For the traveling hunter the destination "Kodiak, Alaska" conjures up big bears and fantastic sea duck hunting. For waterfowl hunters, sea duck hunting on Kodiak Island, Alaska is one of the top destinations to experience waterfowl hunting at its finest. There is a large variety of species including: Black, White Wing, and Surf Scoters, Harlequin, Old Squaw, Common and Barrow's Goldeneye, Red Breasted and Common Merganser, Bufflehead, Bluebill, Mallards and many other puddle ducks early in the season. Some of the puddle ducks also winter here in Kodiak and can be hunted until the end of the season. Alaska's sea ducks migrate to here, not though here. Kodiak Island is the final wintering place for many of them and Kiliuda Bay is ice free all winter
The season starts in October and runs through late January. If you are looking for fully plumed birds to mount, I suggest hunting in mid Nov. – January.
We provide fully guided Alaska duck hunting charters. You will be hunting over decoys with a guide and a top quality retriever . Depending on the season, you may get the opportunity to do some jump shooting as well.
To provide you with a quality hunt our groups size is 2-4 hunters. This gives your group exclusive use of the lodge.
Duck hunting has been a lifetime passion. We have hunted birds from Texas to Alaska and nothing compares to the sea duck hunting on Kodiak Island. We will work hard to provide you with the duck hunt of a lifetime. So practice up, bring lots of shells and get ready for your stay at our comfortable Alaskan lodge with hot showers, great meals and ocean view rooms.
All birds will be cleaned, wrapped, boxed and ready for transport at the end of your hunt. During your duck hunt you may even choose to do a day of Halibut and Black Rockfish fishing as well or some fox hunting at no additional charge . We sell 1 day fishing licenses also.
We can also customize any one of our trips to include other hunting or fishing opportunities. It only takes your imagination for us to put together your combo package.
Booking Information:
If you're looking for a truly great sportsmans lodge and an Alaskan hunting package, you've got see Kodiak Island. Book a trip with Kodiak Adventures lodge and experience a trip of a lifetime.
A 50% deposit is due at the time of booking on all trips unless you are booking more than 1 year in advance.
Best contact with us is email: info@kodiakadventureslodge.com
or you can call Captian Larry Carroll at (907)-892-1325 from Jan.- April 15th. We do not have phone service at the lodge so from April -Dec. please leave a message. (we do check messages and we will call you back within a couple days !!!!).